Dr. Alicia Chou - Dentist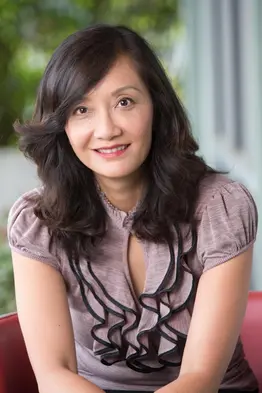 Dr. Alicia Chou has been practicing in Burien since 1999. She sees our patients as an extension of her family, and strives to provide the best dentistry for them as such.
Born in Taipei, Taiwan, she moved to Portland, Oregon at the age of 12. Dr. Chou graduated from the University Of Washington School Of Dentistry in 1996 after receiving her undergraduate degree in Microbiology there in 1992. She continues to study and learn the latest dentistry has to offer by taking many continuing education courses.
Outside the office, Dr. Chou loves to spend time with her husband and their three sons. She also enjoys running, reading, music, and summer road trips.
---
Bianca - Patient Care Coordinator
Bianca is our amazing Patient Care Coordinator. Bianca attended Thomas Jefferson High School in Auburn where she was the Latino Student Union President. She was also active in other clubs, and sports such as wrestling, track, and cheerleading. Bianca attended Highline College and the University of Washington.
Bianca enjoys cooking, painting, and spending time with her family. She has a beautiful daughter named Gia, and three dogs, Belle, Ruby, and Rukia.
During her time outside of the office she likes to go to the dog park, beaches, and restaurants. Every so often she also enjoys long drives, hiking, and snowboarding. She is calm, sweet, hard working, organized, and knowledgeable. We are fortunate to have her on our team!
---
Sunita - Lead Dental Assistant
Sunita brings over 21 years of experience in the dental field. With fully extended capacities, as lead assistant, with her knowledge, gentle touch and compassionate chair-side manner, she helps patients feel more relaxed, comfortable and confident during their visit. Sunita loves working alongside Dr. Chou and the rest of the team helping create a supporting and positive works pace.
Outside of the office, Sunita enjoys cooking and trying new recipes, spending time with friends and family and meditating.
---
Erica - Dental Assistant
Erica is our wonderful dental assistant. She joined the Boulevard team in 2022. Erica was born and raised in California and moved to Washington in 2006.
Erica enjoys cooking, exploring new restaurants, and spending time with her family. She has two teenage boys, and two fur babies. During her time outside the office, she likes to go to help her son plant fruits and vegetables, listen to music, and binge movies.
She is full of energy, sweet, funny, hardworking, motivating, and knowledgeable. We are fortunate to have her on our team!